Death Worm™ Free
1.70
Arcade Game – Eat Them All!
If you want to relax and shed some stress then this arcade game is ideal for you. Death Worm Free is an entertaining game which lets you become a giant worm rising from the ground to gobble anything and everything on the surface. You get to become the predator that has an insatiable hunger and wants to eat and destroy anything that moves. This game lets you bring helicopters and airplanes to the ground and blow up tanks and vehicles. The fun never ends as you get to upgrade your worm and make it even stronger. As you advance in the game, you will get to unlock new worms and locations and find out what else your worm can do.
Death Worm Free is incredibly addictive. The slick gameplay combined with the beautiful graphics make this arcade game very enjoyable for just about anybody. You are provided with a user-friendly set of controls too which simplifies the task of playing this game. There is a virtual joystick provided at the bottom-left corner of the screen. It is for controlling the movement of the worm. Using this joystick, you can make the worm go in any direction you want. On the bottom-right corner of the screen, you will find two buttons. One of them is for Nitro while the other is Fireball. You can use them for getting an upper hand on your enemies and do more damage to them. Both these powers can only be used for a limited number of times, though.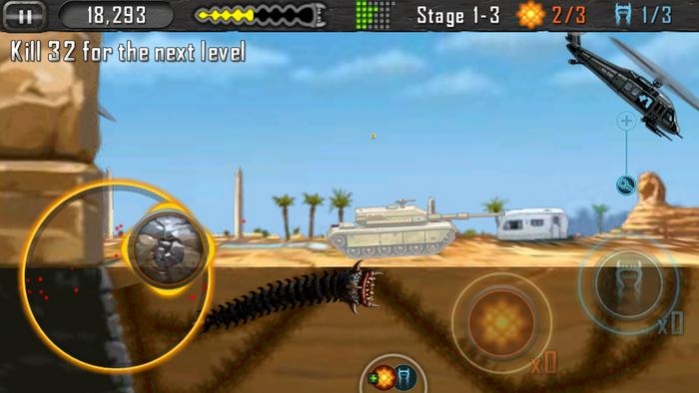 This arcade game provides you the chance to eat just about anything. You have people running around on the surface that you can attack and gobble up. There are animals like camels and tigers on offer as well. Moreover, you will face various enemies that are trying to kill you too. This includes army personnel, trucks and even tanks. There are gunship helicopters flying in the air that are trying to shoot you down too. To add to all this, there are bombs planted both on the surface and in the ground that can harm you as well. Facing all this, your worm requires a lot of help in order to survive. This help comes from the upgrades that you can make to the worm on the fly.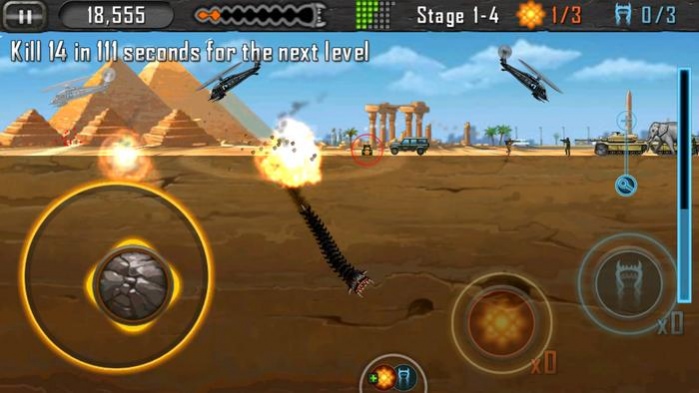 Death Worm Free offers multiple game modes to you. There is the standard Campaign mode which comprises of various stages. You can take part in them and complete the different stages by completing the mission you are offered. Each stage requires you to reach a certain experience level. You can try and increase your experience level by playing the Blitz mode. In this game mode, you are given a short amount of time in which you have to score the most number of experience points. These points are awarded based on the damage you do to your enemies. As your experience level rises, you can unlock new stages in the Campaign mode. You earn coins for completing stages and competing in the Blitz mode. These coins are needed for unlocking the mini-games and Survival mode.
Features:
Multiple game modes
Campaign mode comprising of various challenging stages
Increase your experience level to unlock new stages
Take on the clock in the Blitz mode
Various mini-games on offer
Try to stay alive in the Survival mode.
Upgrade your worm and make it stronger
Lots of enemies to eat and destroy
Gobble up people, animals, vehicles and even aircrafts
A chance to unlock new locations and new types of worms
Conclusion:
Death Worm Free is a gaming app which will primarily appeal to people who like playing horror games. It gives them the chance to be the big bad death worm and attack and eat whatever is present on the surface including people, animals, vehicles and even airplanes. It is an arcade game worth having on your phone if you enjoy being the bad guy in the game.
---
Add a review
Tell us your experience with
Death Worm™ Free
1.70
RELATED PROGRAMS
Our Recommendations
---
---
---
---